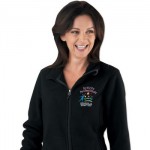 If you have a small activity staff at your facility, expand your recognition week by teaming up with activity professionals from other facilities in the local area. Hold a luncheon for everyone. Recruit your facility's dietary staff to prepare the food. Put Mini LED Flashlight Key Ring & Pen Gift Sets on the tables. And further celebrate your field by handing out Organizer Briefcase Bags.
Organize a special craft project to thank the activity professionals at your facility. Start with paper made out of recycled materials. Copy an outline of the Earth on each sheet, then fold the sheets into greeting cards. Have residents decorate the images. Help them write "You Mean The World To Us" and sign their names. Present the cards along with "Think Green!" Eco-Friendly Pencil Sets.
Add extra excitement to Activity Professionals Week with a Wii tournament. Each day, feature a different game, such as bowling or race car driving. Hold rounds of competition for your staff and separate rounds for your residents. Use the items in the Activity Professionals Gift-A-Day Combos to award a prize daily to the staff member who performs the best at the Wii game.
Category: Idea Guides, Recognition, Recognition Event Ideas, Recognition Events